News for the 'Uncategorized' Category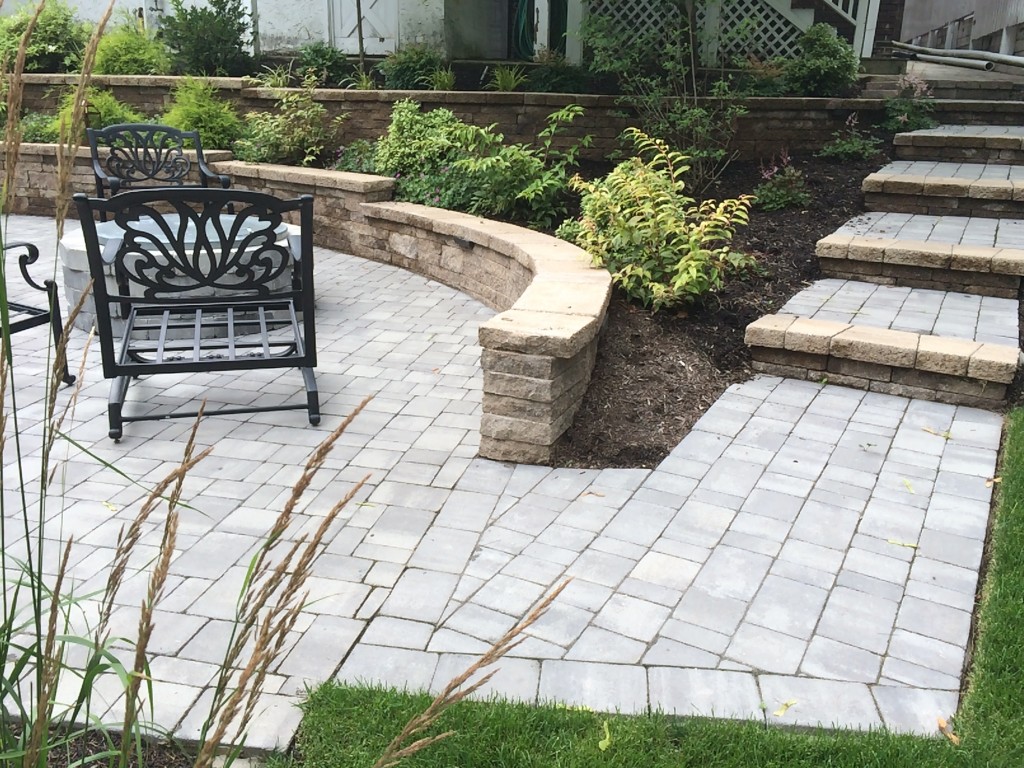 Edited: March 30th, 2016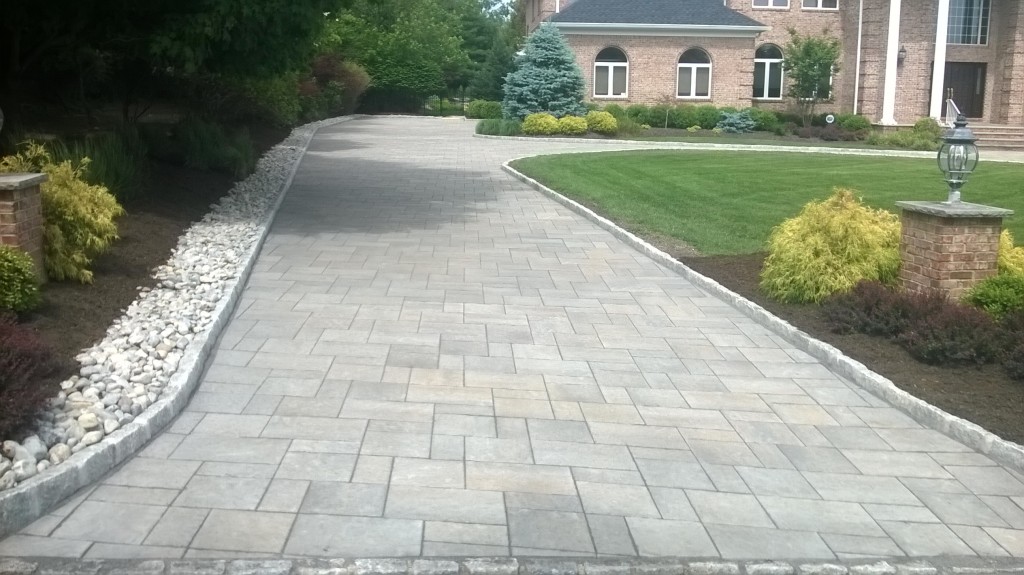 Not your average every day driveway, let DeFranco & Sons  design and build one to your taste and needs.
Edited: March 23rd, 2016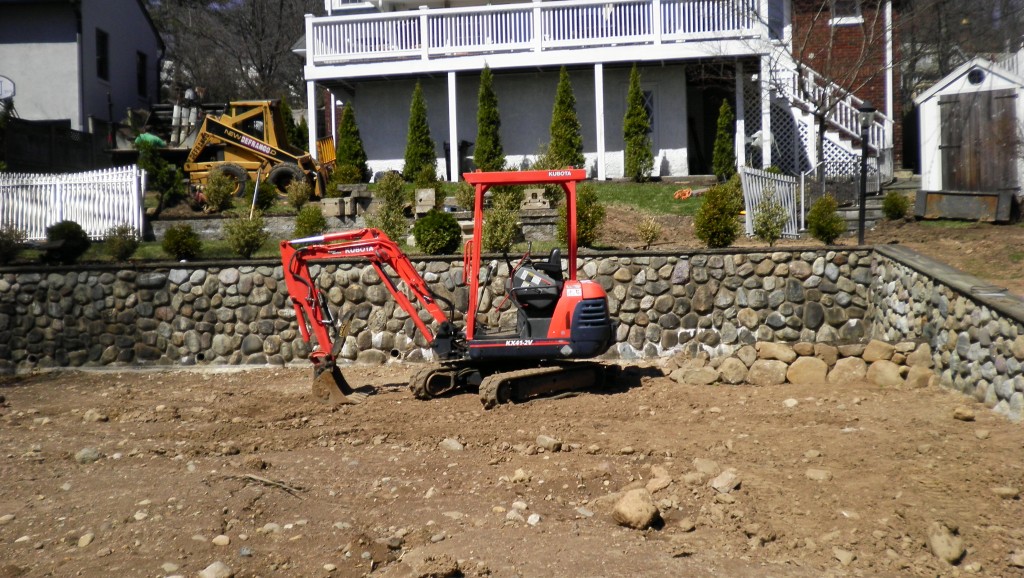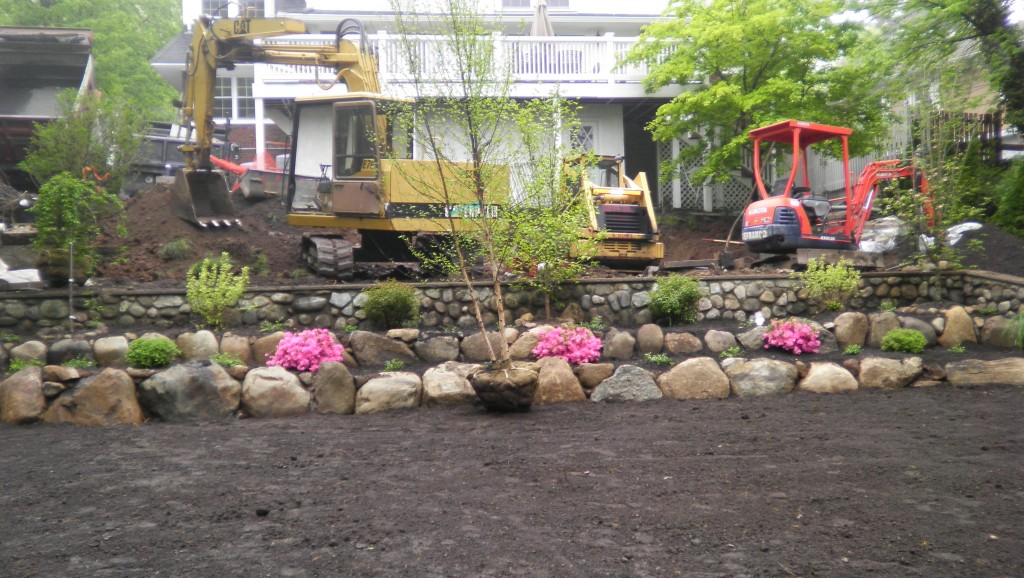 Edited: March 23rd, 2016
When you inspect your driveway and yard this Spring, you may find damage to your retaining walls, driveway, patio, walkways, plants & shrubs – or even worse – to your home's foundation. You may also find you have some water puddles that weren't there last year, but now they won't go away. It may surprise you to learn that in most cases these problems can be repaired without a complete tear-out and replacement. This can save you thousands of dollars! However, these repairs should not be postponed as all the above listed conditions will continue to deteriorate and the cost of repair will rise accordingly.
At no cost to you, our highly qualified estimators will inspect the damage, explain all possible repair options, and prepare a detailed written estimate for you.  Let us show you how you can save money by repairing the problems around your home before they become major and costly issues.  Other contractors may try to sell you more work than you need – at DeFranco and Sons Contractors we pride ourselves on giving you the repair you need at a price you can afford.
If you should need a major repair or installation we are fully qualified and equipped to perform large scale projects.  Please also visit the website of our award-winning landscaping associate – Garden Masters
Edited: March 18th, 2014
The worst winter in recent history has damaged roads, driveways, and parking lots. DeFranco and Sons Contractors can repair that damage quickly and at a great price. Contact us to get a free estimate and recommendations on which type of repair will serve you best.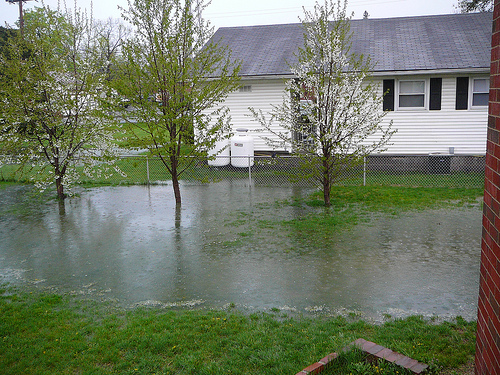 Spring run-off and flooding will also be an issue this year.  We can repair or replace existing outdoor drainage systems or install new ones.
Does your town have a prohibition against water from roof gutters or sump pumps draining into the street?  See our May 2010 post for a description of the environmentally friendly Stormtech drainage system.
Edited: March 3rd, 2014
A prime example of the beautiful and high quality work we do is this highly personalized outdoor living area in Monclair. Please note the level of detail including a bespoke wallstone bar with Bluestone counter surface, and a recessed grilling area.  We also constructed a stone firepit to the owner's specification. The last shot is a "before" picture revealing the magnitude of this amazing transformation.  Imagine yourself entertaining in a gorgeous setting like this! (Please click on photos to enlarge)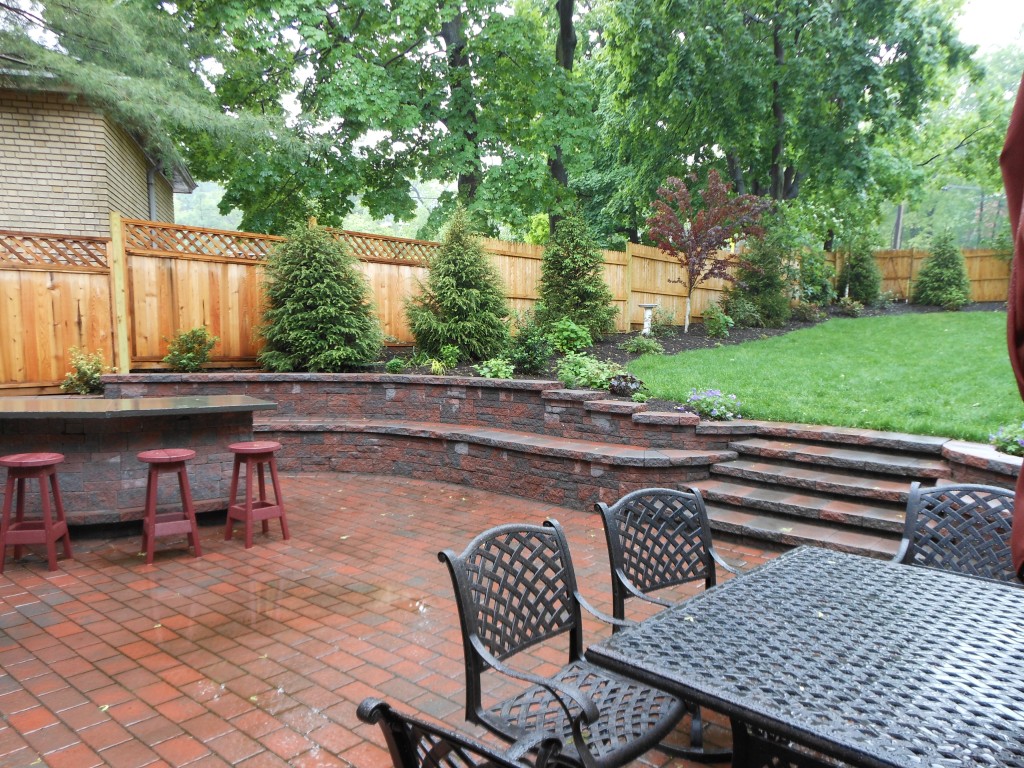 View to the left from back of house showing custom bar we created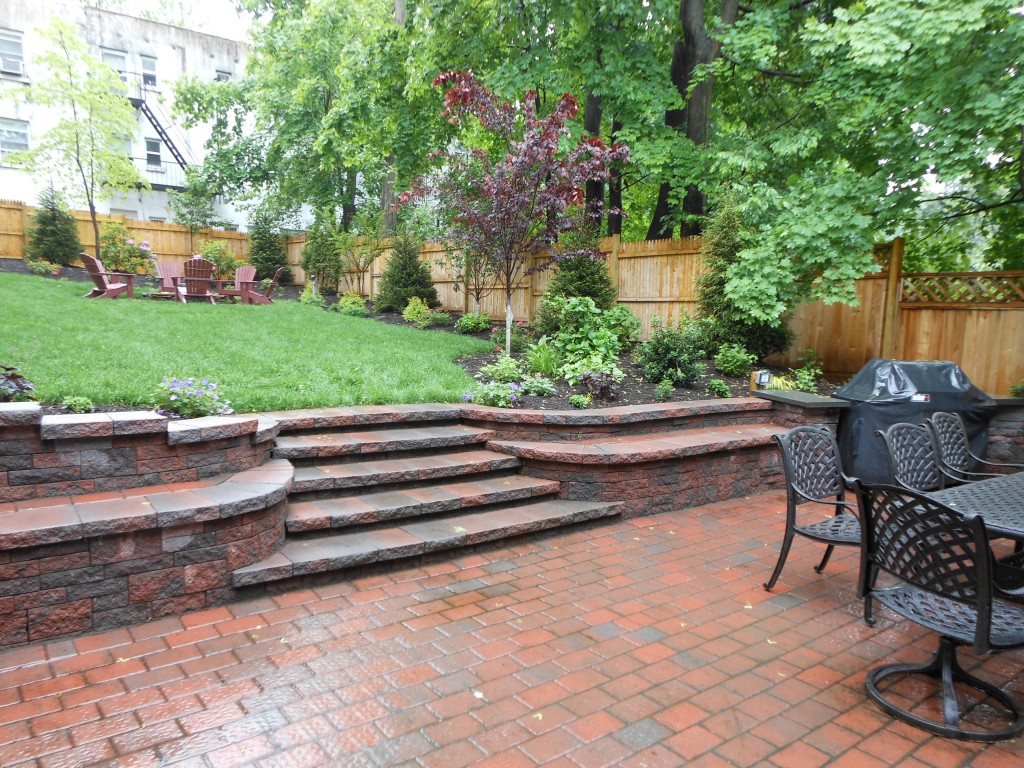 Note the recessed grilling area on the right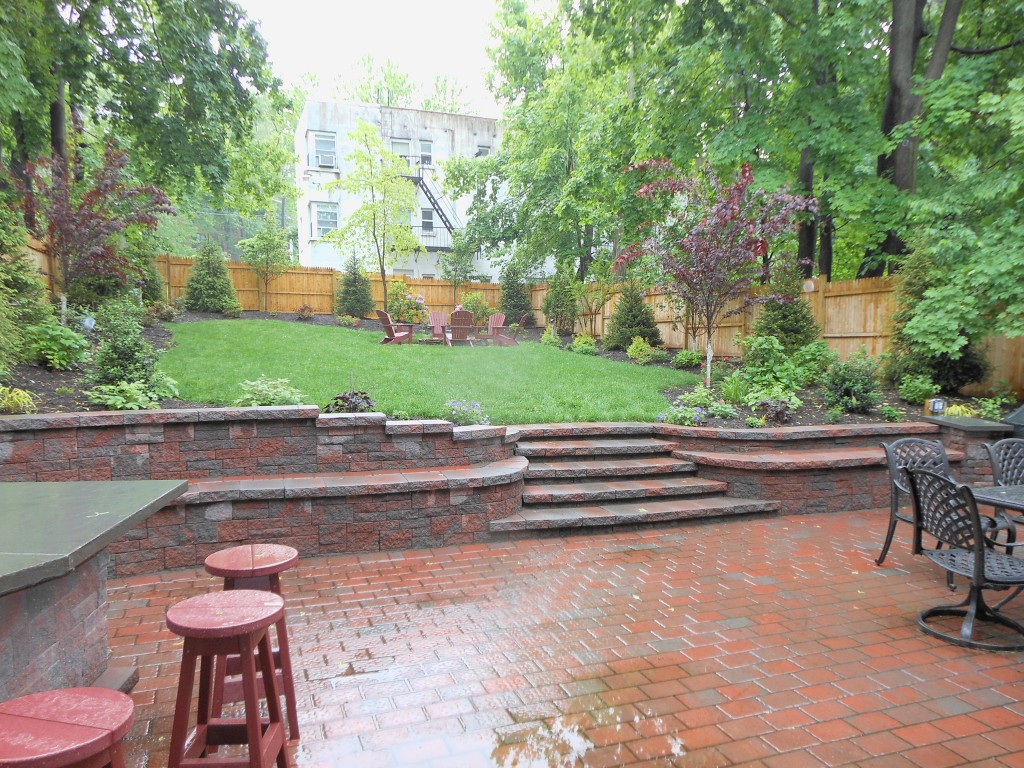 Inviting steps and contoured walls seamlessly integrate with planting space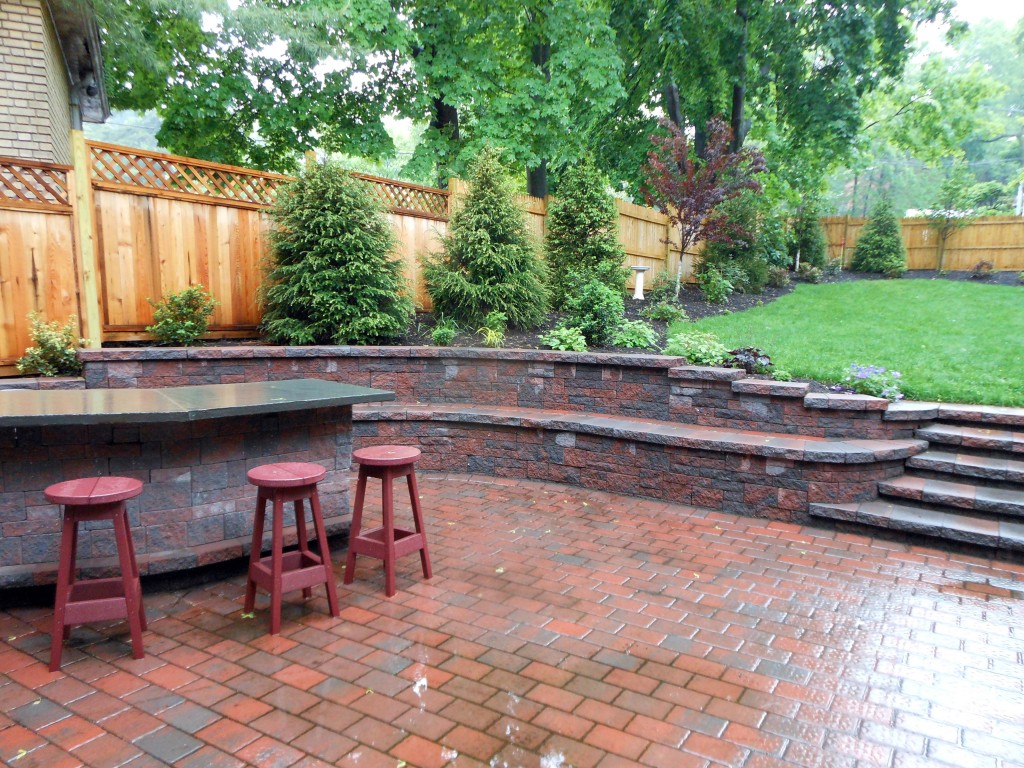 Elegant stepped walls provide ample seating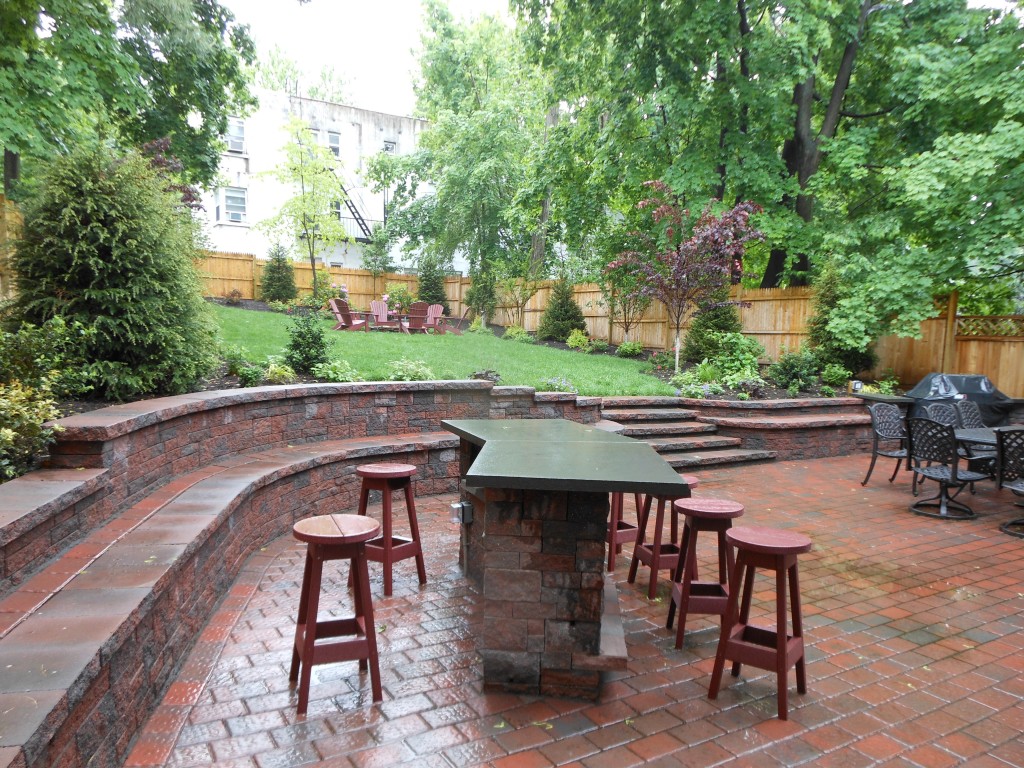 Bar is capped with a bespoke Bluestone countertop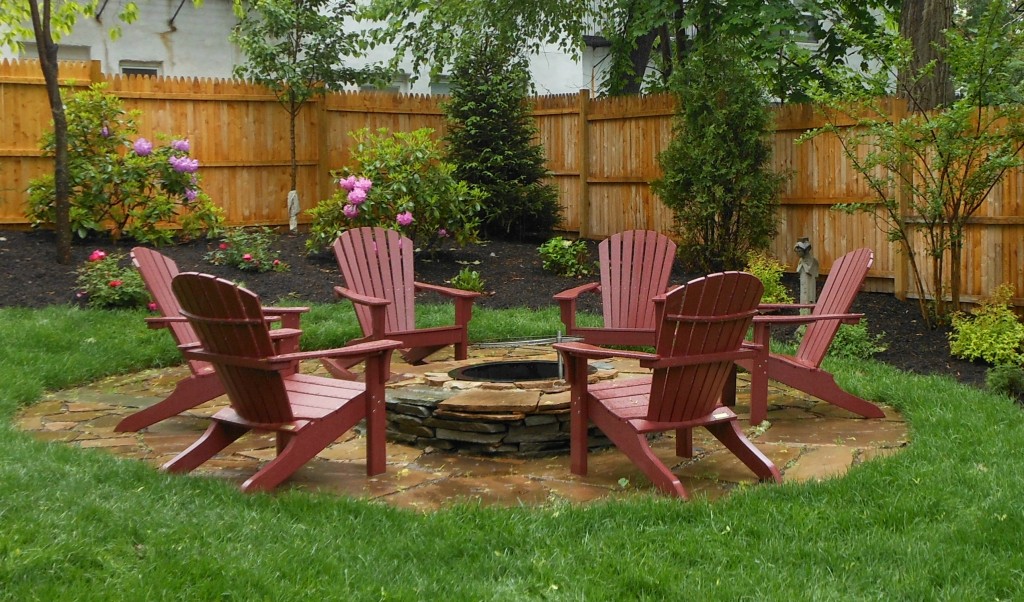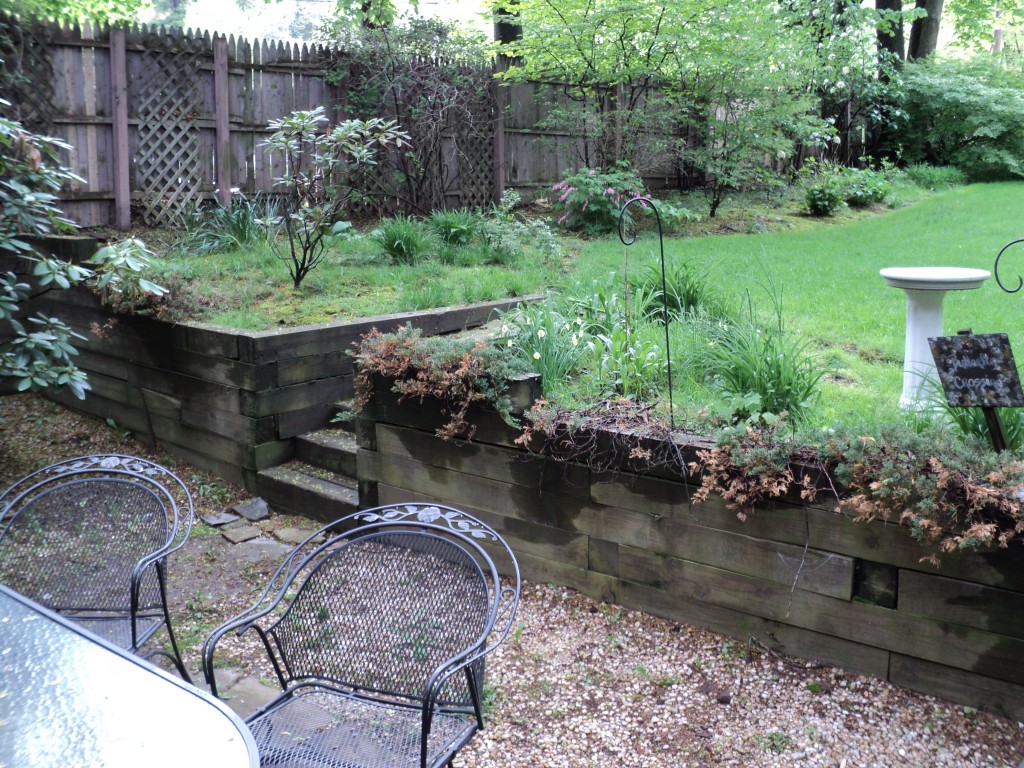 And finally, the "before" shot -What a difference!
Edited: May 23rd, 2012
De Franco & Sons Contractors is a family owned and operated full service general contracting firm serving Northern Central New Jersey. Since 1978 we have been providing our commercial and residential clients with top quality work at a surprisingly low cost. Our long-standing relationships with local suppliers enables us to give our clients the best products available at very reasonable prices.
Our specialties are custom patios, retaining walls, and paving. Click on the What We Do tab to see a comprehensive list of  all the services we provide and be sure to check out the Photo Gallery. We provide free cost estimates scheduled at your convenience.
Specific areas that we cater to are Montclair, New Jersey, Montville, New Jersey, Pine Brook, NJ and North Caldwell, New Jersey. No job is too big or too small. We have years of experience and have built a great reputation with our clients. Call us today (973-227-7407) to see what we can do for you.
Edited: April 11th, 2012
After an unusually warm and snow-free winter, we are getting an earlier than usual start this year.  It's a good thing too, as the phones have been ringing off the hook.  If you are planning a project this year, perhaps a new patio or outdoor living space, driveway repair or repaving, or you are considering an upgrade to pavers for your driveway or walk, call us soon for a free estimate.
Please click on the "What we do" tab to see all the services we provide.  And be sure to look at the "Photo gallery" to see the actual results our skill, experience, and knowledge of the latest materials can bring to your home or business.
Keep checking our website as we will soon be posting photos of some of our stand-out projects from last year.
Edited: March 7th, 2012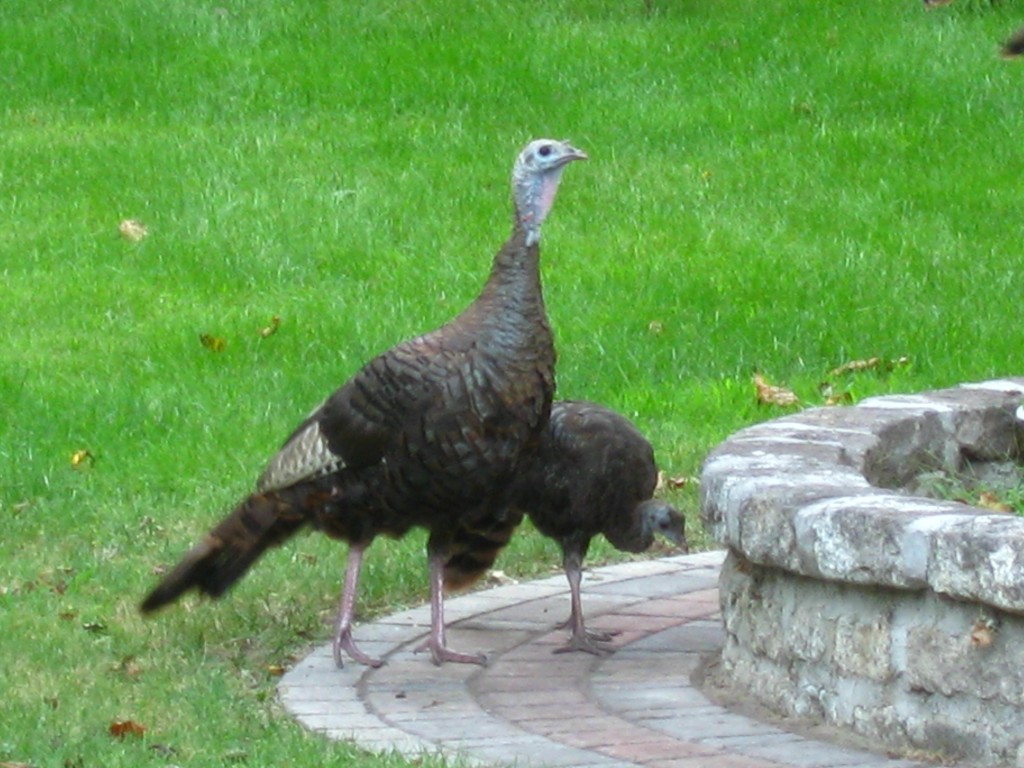 At De Franco & Sons we care about the environment and can help you do your part to conserve natural resources.  Ask us about:
Recycled asphalt products – (up to 50% recycled content available)
Recycled aggregate materials – (up to 100% recycled base and below-ground fillers)
Interlocking pavers – made with recycled concrete products
Interlocking retaining wall systems – made with recycled concrete products
Underground seepage pits – How is this green?  Runoff from gutters, sump pumps, or large grassy areas overtax storm drains and waste precious rain water.  Seepage pits collect this water and allow it to gradually seep back into the ground, replenishing the aquifer directly beneath your home.
Xeriscaping – Xeriscaping refers to landscaping designed to reduce or eliminate the need for supplemental water, specifically by automated or manual sprinkler systems (see Wikipedia entry "

xeriscaping

").  In brief, large areas of water-thirsty grass are replaced with features such as water or rock gardens, utilizing low maintenance surface materials and plantings which tolerate near drought conditions.  Often the design is augmented by a rainwater collection system for strategic watering.  When water consumption is reduced, not only is it good for the environment, it will save you money, and those savings will be doubled if your sewer bill is calculated by water usage – as it is in most communities.  Another benefit is reduced time/expense for the upkeep of grass (mowing, fertilizer, weed control).
Best of all, the green materials and methods listed above provide beautiful results and enhance property values with no sacrifice in durability.
Edited: November 22nd, 2010
There is no reason to wait for the arrival of warm weather next Spring to plan and carry out your outdoor projects!  Fall weather provides ideal conditions for the installation of patios, walkways, water features, and retaining walls.  Come to us now with those great ideas you had this summer and we can turn them into reality before the snow flies.  When Spring does arrive, you can enjoy your backyard paradise immediately while others are still "stuck in the mud".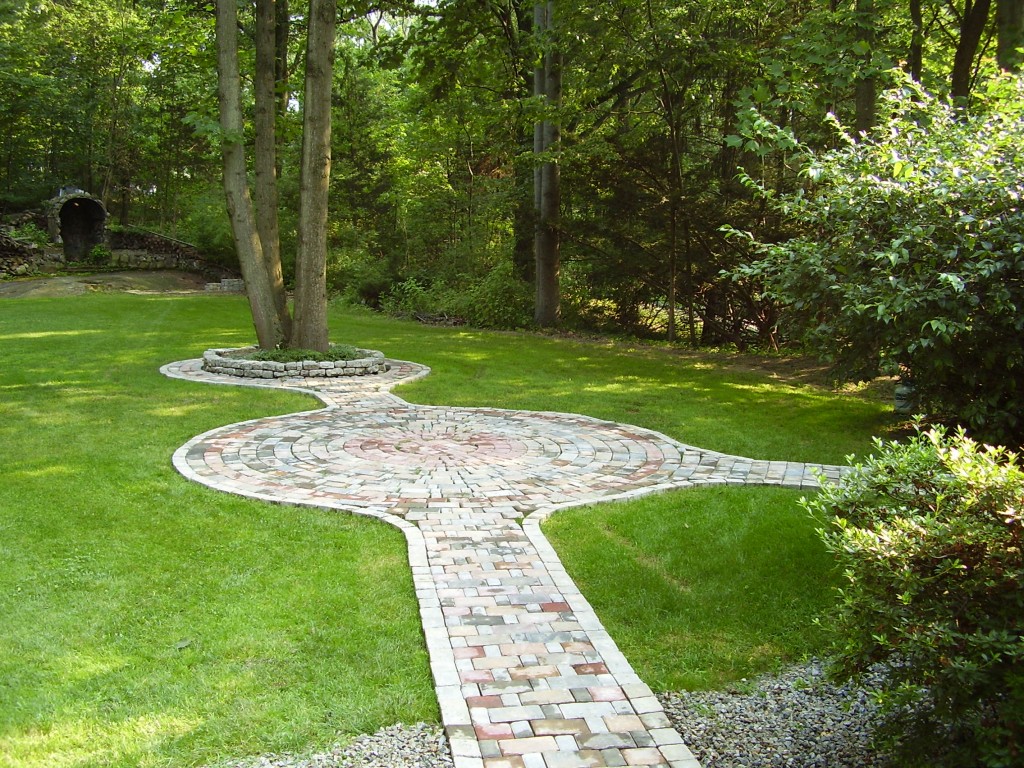 Why call on De Franco and Sons Contractors?  First of all, our quality and pricing put us at the top of our field.  Our knowledgeable advisers and skilled labor can help you all the way from concept to planning, construction, and project completion.  We understand complex issues ranging from grading and drainage to the interaction between your existing property and the features you are planning.  Our experienced advisers will provide you with ideas and solutions you may not be aware of, including new products and innovative building techniques.  Additionally, we can tell you if permits, mark-outs, or other approvals will be required by your local building department.  If permits are needed, we will help you obtain them and arrange for timely inspections to expedite your project while maintaining full compliance with local codes and ordinances.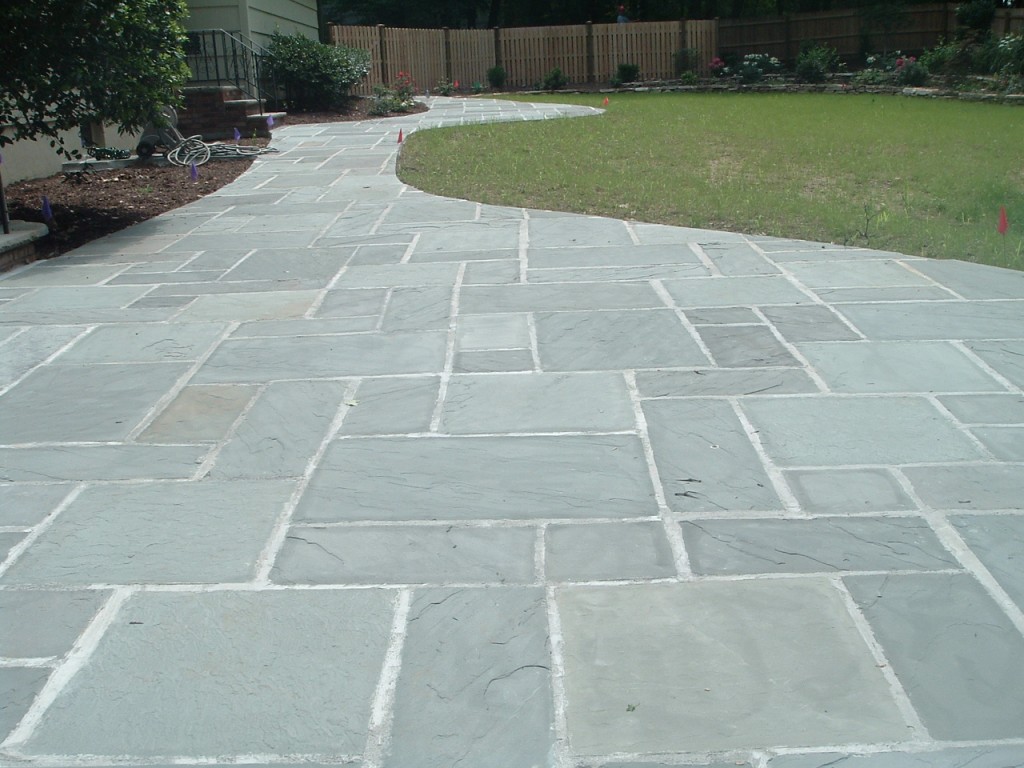 Edited: September 23rd, 2010