News for March 2014
When you inspect your driveway and yard this Spring, you may find damage to your retaining walls, driveway, patio, walkways, plants & shrubs – or even worse – to your home's foundation. You may also find you have some water puddles that weren't there last year, but now they won't go away. It may surprise you to learn that in most cases these problems can be repaired without a complete tear-out and replacement. This can save you thousands of dollars! However, these repairs should not be postponed as all the above listed conditions will continue to deteriorate and the cost of repair will rise accordingly.
At no cost to you, our highly qualified estimators will inspect the damage, explain all possible repair options, and prepare a detailed written estimate for you.  Let us show you how you can save money by repairing the problems around your home before they become major and costly issues.  Other contractors may try to sell you more work than you need – at DeFranco and Sons Contractors we pride ourselves on giving you the repair you need at a price you can afford.
If you should need a major repair or installation we are fully qualified and equipped to perform large scale projects.  Please also visit the website of our award-winning landscaping associate – Garden Masters
Edited: March 18th, 2014
The worst winter in recent history has damaged roads, driveways, and parking lots. DeFranco and Sons Contractors can repair that damage quickly and at a great price. Contact us to get a free estimate and recommendations on which type of repair will serve you best.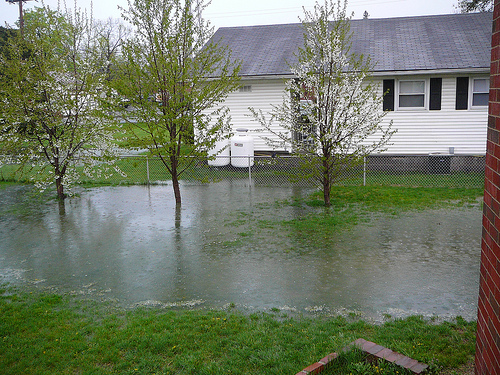 Spring run-off and flooding will also be an issue this year.  We can repair or replace existing outdoor drainage systems or install new ones.
Does your town have a prohibition against water from roof gutters or sump pumps draining into the street?  See our May 2010 post for a description of the environmentally friendly Stormtech drainage system.
Edited: March 3rd, 2014